Industrial Ghee Boiler Plant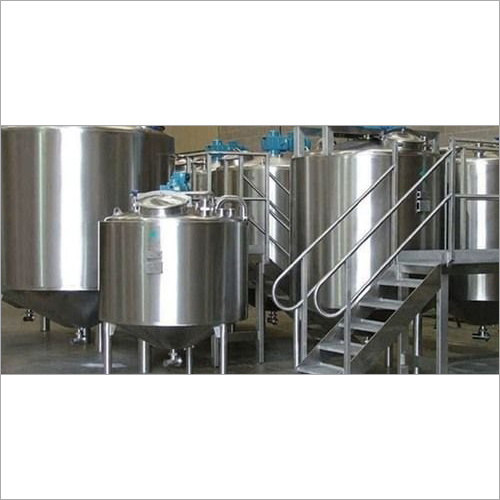 Industrial Ghee Boiler Plant
Product Description
We provide an industrial ghee boiler machine, which is used in the food processing industry for the purpose of boiling ghee. These are constructed of high grade steel and carbon steel blended with metal alloys. These are steam-heated boilers for extracting ghee from raw milk and butter. This machine has huge capacity boilers built in regulated sanitary settings to ensure that food items are never compromised. We provide an industrial ghee boiler machine at the most competitive prices.
Applications of Ghee Boiler Plant:
1. Ghee Production: The primary purpose of a ghee boiler plant is to produce ghee from butter. The plant facilitates the boiling and clarification process that separates the milk solids and water from the fat content in the butter.
2. Food Processing Industry: Ghee is a key ingredient in many traditional dishes in South Asian cuisine. Ghee boiler plants play a crucial role in producing ghee for use in cooking, baking, and various other food products.
3. Commercial Ghee Production: Ghee is not only used in households but is also a significant ingredient in commercial food production. Ghee boiler plants are utilized to produce ghee in larger quantities for use in packaged foods, restaurants, and other food service establishments.
4. Quality Control: Ghee boiler plants often come equipped with features for monitoring and controlling the temperature, pressure, and other factors during the production process. This ensures consistency in the quality and flavor of the produced ghee.
5. Hygiene and Safety: Ghee boiler plants are designed with hygiene and safety standards in mind. They often include features like stainless steel construction, easy cleaning mechanisms, and safety measures to prevent accidents during the boiling process.
6. Customization: Ghee boiler plants can be tailored to the specific production needs of a manufacturer. This includes variations in capacity, automation level, and features to suit the scale and requirements of the production facility.
7. Export and International Markets: Ghee is often exported to various countries where it is used in diverse cuisines. Ghee boiler plants enable manufacturers to meet international quality and safety standards, allowing them to tap into global markets.
8. Industrial Ghee Production: Some industries use ghee as an ingredient in products like confectionery, sweets, and snacks. Ghee boiler plants are used to produce the necessary quantities of ghee for these applications.
9. Cooperative Dairy Enterprises: In regions with cooperative dairy enterprises, a shared ghee boiler plant can be used to process milk from multiple dairy farmers, helping to create value-added products and generate additional income for the cooperative members.
10. Research and Development: Ghee boiler plants can be used for research and development purposes in the food industry. This includes experimenting with different production methods, flavors, and formulations to create innovative ghee-based products.
How does Ghee Boiler Plant work?
A ghee boiler plant is designed to efficiently produce clarified butter (ghee) on a larger scale. Here's a step-by-step overview of how a ghee boiler plant works:
1. Butter Melting: The process starts with melting the butter. Blocks or slabs of butter are loaded into large kettles or vessels within the plant. Steam is often used as a heat source to melt the butter evenly and prevent scorching.
2. Evaporation and Separation: As the butter melts, the water content in the butter starts to evaporate due to the heat. The water vapor is released, and any impurities or solid particles present in the butter also begin to separate.
3. Temperature Increase: The temperature is gradually increased to separate the three components of butter: clarified fat (ghee), milk solids, and water. The milk solids settle to the bottom or rise to the top, and the water evaporates.
4. Clarification: The melted butter is heated further to ensure complete separation. The milk solids are usually skimmed off the top or removed from the bottom, leaving behind the clear, pure clarified butter (ghee).
5. Filtration (Optional): To remove any remaining impurities or particles, the ghee can be passed through filtration systems. This step enhances the clarity and quality of the final product.
6. Collection and Storage: Once the ghee is clarified and any necessary filtration is done, it is carefully collected and transferred to storage tanks. These tanks can hold large quantities of ghee for further processing and packaging.
7. Quality Control: Throughout the process, quality control measures are implemented. This includes monitoring factors like temperature, processing times, and visual inspection to ensure the ghee meets the desired quality standards.
8. Packaging: The clarified ghee is then ready for packaging. It can be filled into containers of various sizes, such as jars, cans, or pouches. Proper packaging is crucial to maintain the quality and shelf life of the product.
9. Distribution: Packaged ghee is prepared for distribution to retailers, wholesalers, or other customers. Proper labeling, including nutritional information and production details, is essential for compliance with regulations and consumer transparency.
10. Waste Management: Any waste generated during the process, such as milk solids or residues, needs to be managed properly according to environmental regulations. Sustainable waste disposal practices are important for minimizing the plant's environmental impact.
FAQ:
Q1: What is an industrial ghee boiler plant?
Ans: An industrial ghee boiler plant is a facility designed for the production of ghee on a large scale. Ghee is a type of clarified butter that is commonly used in Indian cuisine and various other culinary applications. The plant typically consists of various equipment and processes for melting butter, separating impurities, and producing clarified ghee.
Q2: What equipment is commonly found in a ghee boiler plant?
Ans: A ghee boiler plant generally includes equipment such as steam boilers, kettles or vessels for melting butter, separators for removing impurities, storage tanks, filtration systems, pumps, and packaging machinery. These components work together to produce, clarify, and package ghee efficiently.
Q3: How does the ghee production process work?
Ans: The typical process involves melting butter in large kettles or vessels, allowing the water content to evaporate. The melted butter is then heated further to separate the milk solids and water from the clarified fat. The impurities settle to the bottom or are skimmed off, and the clarified ghee is carefully collected. Filtration may be used to remove any remaining particles. The final product is then stored and packaged for distribution.
Q4: What are the key considerations for setting up an industrial ghee boiler plant?
Ans: Setting up such a plant involves several considerations, including location selection, facility layout, regulatory compliance, equipment sourcing, energy source availability (e.g., steam, electricity), waste management, hygiene and safety standards, skilled labor, and quality control measures.
Q5: Are there any environmental considerations for such a plant?
Ans: Yes, environmental considerations are important. Proper waste disposal, efficient energy usage, and adherence to pollution control norms are essential to minimize the plant's environmental impact. Sustainable practices can include using renewable energy sources, optimizing water usage, and implementing waste recycling or treatment systems.
Q6: What safety measures should be in place?
Ans: Safety is paramount in an industrial setting. Adequate ventilation, fire suppression systems, emergency shut-off mechanisms, and personal protective equipment are crucial. Regular equipment maintenance and employee training on safety protocols are also necessary.
Q7: How is the quality of ghee maintained?
Ans: Quality control is vital in ghee production. Monitoring factors like temperature, moisture levels, and processing times ensures consistent product quality. Regular testing for contaminants, flavor, aroma, and shelf life helps maintain a high-quality end product.
Q8: What is the market potential for ghee?
Ans: Ghee has a significant market demand, both domestically and internationally, due to its use in various culinary traditions and its perceived health benefits. Researching market trends and understanding consumer preferences can help guide production and marketing strategies.